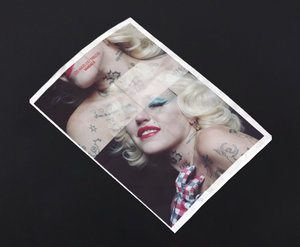 LOS ANGELES / TABLOID
Sale price Price €15.00 Regular price
// VANDALS L.A. TABLOID
// SPECIAL EDITION FANZINE x "PLEASURES"
/ 64 pages / 60gsm newspaper
/ 260x370 mm
/ Conceived in Los Angeles & printed in France
// AVAILABLE
"This publication is a personal indulgence.
I grew up with a passion, a major crush, a bit bashful to admit, for the US. Last October 1st, I arrived to LA, alone… with a medium format film camera in my hands and an urge to meet people, photographers, artists… to dissolve myself in the City and its people as much as possible.
First LA… the myth and through the looking glass… then, the road… California, Nevada… the small towns… and its margins, Bombay Beach, Slab City…
Always attracted by the margins… I decided to create that special issue of VANDALS and bringing some of those photographers I've met on the way… making it as different as possible from the VOLUME… less cerebral and more personal, less sophisticated and more fun… less political and more intimate… or maybe not, maybe it's the exact opposite. Who cares!
Hope that this issue will inspire you like the VOLUME does… and that it'll give you the desire to discover LA and California… far away from Hollywood Boulevard into the depths of its contradictions."
(MVA, Editor-in-Chief VANDALS)
***
Featuring:
CLARA TAGTSTROM - BROOKE CANDY - PLEASURES - ROCH ARMANDO - LEONARDO CORREDOR - MATHIEU VLADIMIR ALLIARD - KEALAN SCHILLING
***